IT operations must beware inappropriate automation
Being technical folk, we are far to quick to leap to technical solutions to non-technical problems. Automating operations tasks is one of those cases.
[update 2019, I've learned a lot since 2011:
The business case for automation often only looks at the local optimum, like this post does.
but if it is one if the last pieces of the puzzle to completely automate a workflow, then the value is great. we should look at the impact on the whole value stream not just the task.
Conversely, it's equally important to look at TCO over time.
And risk of a key automator leaving.
and most of all, automation can negatively impact agility. Agility is not about how fast you work. it's about how fast you change how you work.]
.
I've talked about automation before:
Automate to make systems more reliable. Automate to make them more effective. Even automate to make them more efficient. But don't automate to eliminate people

...and...


I doubt automation reduces errors. I think it reduces their frequency but much amplifies their magnitude, with a nett result that not much is changed... Automation does not reduce the nett effect of human error. It results in fewer bigger errors.
There is another principle we must always bear in mind with automation: only some transactions are suited. You should only automate that which is
repeatable and strictly clearly defined
frequent (or very expensive). It costs a lot to automate. there need to be enough of them to provide an ROI
stable. It costs a lot to change automation, just like it costs a lot to change any production software-based system. If the rules or procedure are always changing then people flex and change faster and more cheaply than automation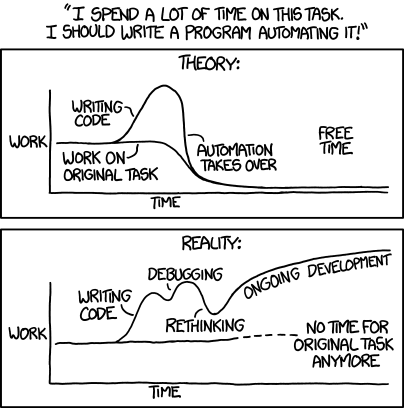 In the operations context, how many tasks fit those three criteria? Not many, and certainly not all that i've seen IT staff try to automate. We are way too optimistic in IT about automating operations - some might say cavalier.
Testing software - whether it be automation or anything else - far exceeds the cost of coding and (often? usually/ always?) exceeds the cost of planning and design. This is frequently overlooked by IT Operations staff automating IT systems, who think that banging another rule or script into Tivoli, Patrol or Unicenter is a few hours work. Likewise Service Desk tool admins adding workflow.
if the business is automating a core process, then the system is usually properly design and built.. and tested. If security staff want to automate access provisioning, someone bangs up a "self-documenting" Perl script, give it a quick unit test on the bench, then release it into the wild.
Our operations tools are production systems just like the ones we are stewards of - there's another concept I struggle to get across to some ops staff - and need to be subject to the same justification, planning, specification, design, testing and release as any other.